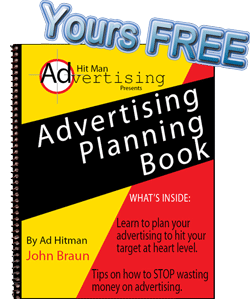 "I'm very impressed with the Hitman Advertising System. The manual is full of great information. Just one successful ad from this kit will pay for itself many times over."
Howard Partridge,
#1 Management Consultant

"I got to know John a couple of months ago and decided to give his service a shot. He is very thorough and very good. He is reasonably priced and produces great work. In my experiences with John he does what he says and the ads produce and produce big."
Kevin Pearson
Professional Drying Equipment

"I have begun looking through my package and I must say I am very pleased with what I have seen so far. It is very practical and helpful and I can't wait to put it all into practice. Thanks so much for being willing to share your information."
Matt Richerzhagen, Clean 'n Dry

"Well what can I say other than, this worked. The links page that I have put up is now on the first search page when searching for carpet cleaner in my city."
Bruce Humphrey
Posted on an industry bulletin board in response to my FREE link exchange program.

"Hey John Braun, All I can say is WOW! Your link exchange really DOES work! I too was skeptical, but man was I wrong. My search engine standings have improved tenfold, and the phone is ringing. Can you hear it? CHA-CHING!!! (Ok, so thats not a phone, it's a cash register, but hey, i'll take it.). Glad I decided to sign up. Thanks again. You ARE the man!
Dominick Cassano
Magic Carpet Express Co.


"Your Advertising Supply"
Discover Proven Marketing Strategies, Tools, and FREE Resources You Need To Grow Your Carpet Cleaning Business
You're about to discover:

An instant strategy you can use to plan your ads



Avoid the mistake almost every carpet cleaner makes right from the start



Explode your advertising return



How to get your advertising to solve your sales problems



Find out which media works the best for your carpet cleaning company



Two examples of advertising campaigns--one worked--one failed--see why







Get Your FREE Report and MP3 Audio Now

Fill out the form below and you'll immediately receive your FREE 14 page Advertising Planning Book to EXPLODE YOUR PROFIT every time you run an ad!

Plus, you get a 19 minute audio on how I use these strategies to run my ads. A $37 value, yours FREE! Enter your name and email below.




Don't worry, your email address will never be given to anyone else.
You can opt-out any time you wish with one click.

My Privacy Policy




Terms of Service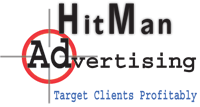 Copyright 2010 John Braun-Hitman Advertising All rights reserved.
1116 E. Olive Road Pensacola, Florida 32514